< Back to News & events
New Omnitek Cito S-flow IV Autosampler
Omnitek launches Cito autosampler, the automatic sampler for S-flow IV.
Cito autosampler now makes Houillon viscosity testing fully automated!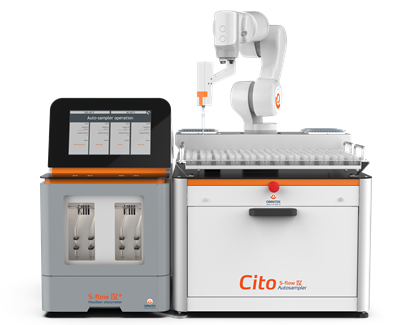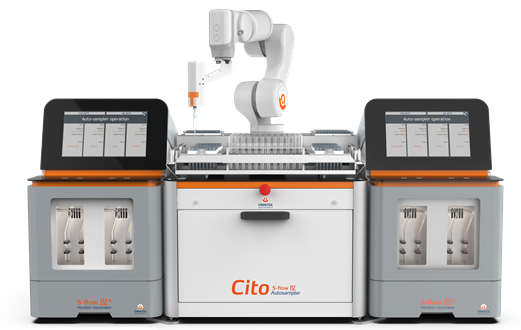 The first automatic sampler for Houillon kinematic viscosity testing, ASTM D7279
Cito is the S-flow IV Houillon viscometer autosampler. The first automatic sampler of its kind for Houillon kinematic viscosity testing. The Cito Autosampler is in-field upgradeable to all existing S-flow IV systems, can service one or even two S-flow IV systems at the same time, providing a capacity of using 8 tubes simultaneously.
Cito consists of a custom robotic arm that is mounted onto a base frame, which can reach and serve up to two S-flow IV instruments, one on either side. Around the base and on the flat top of Cito sufficient space is offered to store pipette racks and sample trays.

Omnitek offers a range of standardized sample trays. The first tray-type offers 2 trays with a total of 96 samples, using 30 ml sample cups that allow for easy filling. The other type contains 2 trays with a total of 192 samples, using 12 ml sample vials often utilized by automatic sample preparation systems. Omnitek offers the possibility of customizing a sample tray to facilitate the use of your sample cup or vial. Each tray also contains pipette tip trays for low and high viscosity samples within the range of 2-2,500 cSt at room temperature. Cito will automatically identify which pipette tip should be used based on the expected viscosity provided by the user.
Its footprint, speed, easy handling, flexibility, and price point make Cito the ideal autosampler for kinematic viscosity applications. Even when doing only a small number of samples daily, its unattended operation provides a quick return on investment.